AD ART SHOW 2020

CALL FOR ARTISTS NOW CLOSED
CALL TO ARTISTS
NOW
CLOSED
FREQUENTLY ASKED QUESTIONS
How do I apply?
---
AD ART SHOW 2020 is a curated event. Our Selection Committee of top contemporary art professionals will review digital representations of your submitted works and, at its sole discretion, select participants for AD ART SHOW 2020.
TO APPLY FOR CONSIDERATION:
Carefully read and accept the Terms and Conditions
Complete the Application Online ­HERE
Provide credit card and payment information, authorizing MvVO ART to charge a seventy five dollars ($75) non­refundable application & administration fee to said credit card
Upload four (4) high resolution images of four (4) artworks (individual or a series) you choose to enter for evaluation, in either JPG or PNG formats. Make sure the digital images you submit are free of viruses and other digital contaminants that could damage software systems.
Please be advised that by submitting images of your work you authorize MvVO ART to publish, modify, and use submitted images and your name for AD ART SHOW 2020 marketing and accreditation purposes. However, you continue to retain rights to your works, which we will accredit when applicable.
---
What is the deadline to apply?
---
The deadline to submit an application is now CLOSED for 2020.
---
How does AD ART SHOW 2020 select artists to participate?
---
AD ART SHOW 2020 is a juried and curated selling exhibition. A Selection Committee of contemporary art professionals will review applications and digital representations of submitted works and select the participants.
The Selection Committee's decisions are final.
In addition, a Jury of contemporary collectiors will select one or more AD ART SHOW 2020 "Best in Show" artists and award each with a Prize of Distinction. Click here to see who was on our Selection Committee for 2019.
---
Who should apply?
---
Artists currently working, or with roots, in advertising and/or related commercial art industries — following in the footsteps of Warhol, Magritte, Haring and many other world notable artists — are eligible. (Or, if your work is influenced by advertising) Your ad world job can be in any capacity from top creative positions to accounting, the mailroom and media buying… Check out our "eligibility checklist" for clarifications. You SHOULD apply if… You want to take your ART career to the next level… If you are ready to invest in your ART future… And, if you want access to art world professionals, art collectors & the media…and the general public!
---
What can I exhibit?
---
You must provide a high resolution picture (300 dpi) of your Art. Selected artists will receive an agreement that specifies the length and frequency at which their Images are shown depending on the selection they made upon submission and space/media inventory permitting. Your Art can be in any medium you choose, i.e. Painting, Sculpture, Photography, Sculpture, or Mixed Media (Collage, etc.). At this time, we prefer still images & will only be accepting video art on a case by case basis. Video art cannot have audio, must be 4K resolution, landscape format, and no longer than 20 seconds exactly.
Please be mindful of how best to photograph your work of other mediums so as to showcase your art as best as possible. Please submit high quality SCANS or PHOTOS of JUST THE ARTWORK (no background environments visible, or angles of the art, no frames, straight-on shots only & no watermarks on photos!) Your photographs must be high resolution images of 300 dpi. If your images are not high resolution, they cannot be used.
PLEASE NOTE: Artwork may be resized to accommodate name and artwork information. The artwork you show must be your own work, owned and copyrighted by you. It must not infringe on any copyright, trademark, or intellectual property. The artwork is your creation and you created it on your own time and you are free to sell it.
PLEASE NOTE: Explicitly sexual or violent content, as well as content featuring weapons, will not be accepted due to the fact that your Art will be displayed in the City and is subject to NYC Public Art display regulations.
IMPORTANT: THE IMAGE YOU SUBMIT FOR EVALUATION MUST BE THE SAME IMAGE WE WILL SHOW ON THE WESTFIELD OCULUS DIGITAL DISPLAY FOR AD ART SHOW 2020, BARRING ANY UNUSUAL CIRCUMSTANCES, WHICH WILL BE CONSIDERED ON A CASE BY CASE BASIS AT THE SOLE DISCRETION OF THE CURATOR.
---
What is the selection criteria?
---
The AD ART SHOW 2020 Selection Committee will select participants at its sole discretion based on:
Aesthetic quality as perceived by the Selection Committee.
Demonstrable artistry as perceived by the Selection Committee.
Selection Committee consensus.
---
What will it cost to exhibit my work at AD ART SHOW 2020?
---
This is a selling exhibition open to selected artists only. You can indicate your preferred choices in the application form, and we will try our best to meet your requests. However, please note that this is a juried selection and only selected artists will be invited to participate. Once the artist is selected there is a per artist fee to cover our production costs. There are different levels of participation depending on your budget and desire for exposure. Please see the application for pricing information.
Level 1 = $375 to exhibit in the AD ART SHOW 2020 group show
Level 2 = $650 to exhibit in the AD ART SHOW 2020 group show + a feature for one week (the feature option is an extra $275 per week)
In addition to the basic participation fee, artists are required to be on the MvVO ART Artsy gallery for a fee ($50/month or $500 for 12 months) that covers Artsy's charges and production. Since independent artists cannot be represented on Artsy without a gallery page, the MvVO ART gallery page is a valuable asset for AD ART SHOW artists.
---
When is payment due?
---
Once selected and notified, you will have five (5) business days from the notification date to pay the corresponding fee. You may wire transfer the fee to an MvVO ART account or to the MvVO ART PayPal account, which we will specify in the Selection Notification correspondence.
Exhibition space will be forfeited if MvVO ART does not receive payment within five (5) days from the notification date. No exceptions will be considered.
---
How should I price my work?
---
AD ART SHOW includes works at many price points and our experience shows that this is a good policy. More established artists generally command higher prices in comparison to newer artists. We leave pricing up to the artists, but please keep in mind both your sales record and your experience in the art market. Our past exhibitions have featured works sold in the $500 to $2500 for emerging artists, and higher for more established artists.
---
How can I enhance my success at AD ART SHOW 2020?
---
We recommend you follow MvVO ART on all social media platforms, as well as all the AD ART SHOW artists and continue to be active on social media and in your communication throughout the show period and while you are on Artsy so you can maximize your exposure. Also follow all AD ART SHOW artists on Artsy. Tag MvVO ART in as many places as you can so we can like your posts and share them too! The most active artists have a better opportunity to get noticed. Fortune favors the bold! Go for it!
---
When will selected artists be notified?
---
Selected artists will be notified by email within two weeks of the Selection Committee having made their selections.
Selected artists will need to commit by the end of March 2020.
---
Can my company or a brand sponsor my submission to AD ART SHOW 2020?
---
Yes, we encourage you to speak to your company or a brand about the possibility of being sponsored to take part in AD ART SHOW 2020, as many of our artists have done in the past. We will happily recognize your sponsor as supporters of emerging artists. Please email us at info@mvvoart.com with any additional questions.
---
Where/how do I ship my artwork?
---
There is no need to send any physical artworks to the digital exhibition.
---
What is AD ART SHOW 2020?
---
AD ART SHOW is a groundbreaking juried art exhibition, launched at Sotheby's New York in February 2018 and now in its third year, featuring artworks by artists from around the world. The venue for 2020 is the Oculus, designed by architect Santiago Calatrava, at the Westfield World Trade Center — one of the most famous landmarks in New York City. Our mission is to provide AD ART SHOW artists with more exposure to the art world, art lovers, and collectors. Our innovative show was a success last year (read more here and here) and we are thrilled to continue to showcase artists and their art from around the world in a new and exciting way at the Oculus at the Westfield World Trade Center.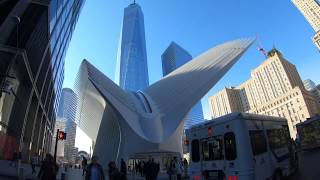 ---
Is there a commission on sales?
---
MvVO ART returns 70% of sales proceeds to the artist on Art sold when MvVO ART secures the buyer. There is no commission fee when the artist secures the buyer. The artist packs the work and the buyer pays for packing and shipping. Also, the artist is responsible for providing a certificate of authenticity and for packing/wrapping art for shipment. Please note that MvVO ART does not guarantee sales. We provide the platform. Artists need to be proactive to sell their Art.
---
Can I meet other Artists?
---
Yes, we encourage this and many long lasting friendships and professional relationships are formed at AD ART SHOW. We organize an artist get together with everyone meeting at a local bar - the first drink is on us! This is one of the most popular events we organize. More details will be sent to you upon selection.
---
Can I meet Collectors?
---
Yes, if a collector is interested in your Art, MvVO ART connects them directly with you.
---
What are the dates of AD ART SHOW 2020?
---
The show will run in September 2020. The group show will run for the first three weeks and the last week will feature artists, at the discretion of our curator and MvVO ART. There will be a VIP Opening and Reception - Date and location: TBA There will also be an artist get together - Date and location: TBA. The AD ART SHOW panel at the One Club for Creativity in New York will be Wednesday, June 10, 2020.
---
What are the benefits of participating in AD ART SHOW 2020?
---
1. Large Scale Exposure - This is an amazing opportunity for exposure on a grand scale. We will be taking over an advertising space worth approximately $500,000 for the the length of the show. 2. Exposure to the Art World and Collectors - Our Selection Committee is comprised of well-known, New York-based Art professionals and notable collectors who vote for the winner once the selection has been made by the Art Committee. Connecting with art world professionals and collectors is an important step in every artist's career. 3. Prizes & Recognition for the Winners of AD ART SHOW 2020 - The AD ART SHOW 2020 prizes will be announced prior to the show. In 2019, we awarded a day of creative immersion at NBC Universal and a curation session with an Art professional from our Selection Committee (travel not included). This year we have also parterned with the Clio Awards on a special award for our winner. 4. Presence on Artsy - Artsy is the largest global Art marketplace today. Contemporary artists need to have gallery representation in order to be on Artsy and MvVO ART provides this opportunity. Artsy is a great place to launch or enhance your Art career because it gives active collectors an opportunity to discover you. Your Art will be in the same virtual environment as famous artists and contemporary peers. 5. Additional Opportunities - Selected artists will be informed of additional opportunities to gain more exposure. For example, in 2019, we had the opportunity to showcase some artists at an event in Tokyo (at no extra cost to the artist). 6. Social Media Exposure - MvVO ART will promote you and your art on our social media channels before and after the show. When the opportunity presents itself, we will also feature some of the artists in editorial content. 7. Fun - Artists are invited to the VIP night and to the artist party. This is a wonderful opportunity to meet collectors and other artists.
---
Do artists need to have gallery representation?
---
Artists may have worked in galleries, but we prefer that you do not have an exclusive representation before participating in AD ART SHOW 2020.
---
Do I have to be physically present at the show?
---
We welcome all selected artists to be present if possible. The opening night is Tuesday, May 4, 2020 and all the artists are invited.
---
What happens if I am not selected?
---
We receive many applications and try to accommodate the maximum number of artists possible. All artists who apply enter our database and are considered for future opportunities.
---
What exhibition options does AD ART SHOW offer?
---
Since our show is digital, your Art will be on the monumental screens of the Oculus at Westfield World Trade Center. This is open to all the artists (United States and International) who are selected through our application process. No need to send physical work, only digital images. See application for details.
---
Can I recommend an artist?
---
If you are not an artist but know someone who should apply, use our Nominate an Artist Form.
---
---
DIMENSIONS GUIDE
---
Please submit high quality SCANS or PHOTOS of JUST THE ART. There should be no background environments visible and no frames. Pictures should not be taken at an angle, straight-on shots only. There should be no watermarks on the images. JPEG or PNG file formats are required. Images must be 300 dpi.
---
---
TERMS & CONDITIONS (Click the arrow on the right to see more)
---
You represent that the Art you submit is your own original work, owned and copyrighted, and that it does not infringe on any copyright, trademark, or intellectual property. You agree that the works you submit for the show will be the same works as submitted for evaluation and approved by the MvVO ART Selection Committee. You agree to submit high resolution .JPG or .PNG image files of at least 300dpi quality. You agree for MvVO ART to keep the credit card information provided for the Application fee on file. Furthermore, you agree to keep the credit card information up­ to ­date and authorize MvVO ART to charge said credit card for exhibition fees and any additional costs that may arise, if applicable, i.e. you are selected and you choose to participate. You will not be charged without written notification.
You agree that your Artworks shall conform to MvVO ART requirements as described herein. You also agree and authorize MvVO ART to reject non­conforming works at its sole discretion. You agree that MvVO ART has the sole discretion to allocate exhibition space and the right to change plans before and during the show without prior consultation with participants.
You agree, all sales transactions are managed and processed by MvVO ART at AD ART SHOW and a commission fee of 30% will apply, which covers Transaction Logistics, when MvVO ART secures the buyer. There will be no commission fee if the artist secures the buyer.
MvVO ART does not and shall not discriminate on the basis of race, color, religion (creed), gender, gender expression, age, national origin (ancestry), disability, marital status, sexual orientation, or military status, in any of its activities or operations. These activities include, but are not limited to, hiring and firing of staff, selection of volunteers and vendors, and provision of services. We are committed to providing an inclusive and welcoming environment for all members of our staff, clients, volunteers, subcontractors, vendors, and clients.
---
---